Santiago Retti



Chile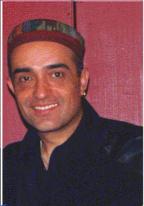 CHILDREN (SONS) OF THE SAME SUN
You were pushed to the adventure
without being a Bohemian
You din´t seek be a object from the terror
In your shadows you have given dreams from a loser
If you don't want, nothing can change it

Your presence is a criticism for my heart
Child from the street you cry without cry
You go with hunger in the stomach and the heart
Without love, nothing can to change
Son of the night and of the apathetic static city

Chorus: It can´t be, it must not be

We need only a little illusion
To give to this child, friend
We are everybody sons from this same sun
But there are people that are still sleeping

I know that there are important things for being so happy
A new car, a travel to Paris or Madrid
So usually our purpose is stand by
Unless you want to, nothing can change it

We need only a little of illusion...

We are everybody sons from this same sun...
Santiago Retti


ESPAGNOL /TOP

email



GANADOR UNISONG

br>

Santiago Retti, composer, arranger, and singer, studied pedagogy and musical education at the University of Chile and took his music diploma at the Catholic University of Chile. At the same time he attended orchestration courses held by recognised "maestros". He is a member of the international festival organisation F.I.D.O.F, , which patronises and organises international festivals and works with artists from all over the world. He is also a member of Songlink Internacional, an editorial body, which presents a platform to producers and composers all over the world, and of Chile's music rights society, SCD.

Artistically, his roots lie in a group called "Sábados Giantes". He has written music for tv serials, e.g. for Chile's Canal 13 ("La Intrusa", with Mágica en la Sombra", a song he also performed himself, and "Matilde Dedos Verdes")

He is permanently ínvolved in activities as a producer, composer and arranger for other national (Gloria Simonetti, Claudia Muñoz) and international artists (Riccardo Fogli, Alessandro Canino, Stephan Guevara, STS).

At present, he is preparing for a new production, which includes the recording of a duet performed with the famous Italian artists Riccardo Fogli and Alessandro Canino. This project will be presented to music editors both in Chile and Italy.



Festival Winner

He has been a winner of various national contests and has represented Chile most successfully at international festivals:

- Finalist of OTI Nacional 1988
- Festival de Viña del Mar 1995
- International Festival of Tahiti (1ST WINNER - BEST PERFORMER) 1991.
- Latin-American Song Festival of California EEUU (1ST WINNER) 1993
- UNISONG (EEUU) Winner in the Latin Category, 1997-1998
- Festival 'Voice of Asia' in Kazakstan (Ex-URSS) (BEST PERFORMER, TV PRIZE) 1999.
- Festival 'Universe Talent' 1999, Prague (1ST WINNER - BEST PERFORMER).