René Simon



Argentina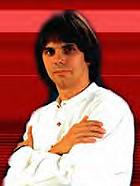 VEN, VAMOS A CAMINAR
Oh, cuanta gente sin elección,
oh, cuantos son solo figuras en el juego.
Oh, cuanta gente a perdido aun su voz,
pero no obstante mantén la fe.

Oh cuantos ninos mueren en guerra
Sin posibilidad de realizar sus suenos.
A muchos de ellos se les vuelven en pesadillas.
Descubre el valor de un nino que sonríe.

Ven, vamos a caminar
Hacia la eternidad.

Oh, cuanta gente abandona su hogar.

Oh, cuantas madres llorando a los
hijos que no volverán.
La tierra destruída por gente que se la apropia,
pero por eso mantén la fe.

Ven, vamos a caminar
Hacia la eternidad.
Ven, vamos a caminar
Hacia el lugar de la unidad total.
René Simon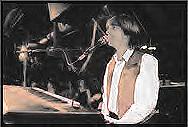 René Simon & La Iguana is a Salsa band. The musicians - most of them Latin-American people, all reside in Switzerland.

The leader René Simon composes and arranges the band's repertory: A Salsa based on the best Cuban and Puertorican tradition, influenced and enriched by Argentinean music (from the Tango to the argentinean Rock) and above all by Latin-American poetry and song.
René Simon was born and grew up in Buenos Aires, Argentina. At the age of 9 he began taking piano lessons. When he was 17 he entered the Municipal Conservatoire "Manuel de Falla" in Buenos Aires. While studying he formed various groups, joined others and performed with them continually. A the age of 25, René Simon travelled to Europe - first to Italy, later to Switzerland, where he stayed.

In Switzerland, René Simon got in touch with other Latin-American musicians and founded "René Simon y La Iguana". With this band he gave concerts in all of Switzerland. In 1994 "René Simon y La Iguana" recorded and edited their first album "Ritmo Caliente". At the time being they are preparing the publication of their new album "Danza Caliente". With two songs of this production has won a price as the best composer in the category Latin at the Benelux International Song & Culture Festival 1999 in Holland.